Welcome to the Thetford Team Ministry.  The team covers a group of Anglican churches serving the town of Thetford and surrounding villages in Norfolk, England. 
As we begin to come out of lockdown we will be continuing our livestream services at 10.30 a.m. on Sunday mornings (see below). For the remaining Sundays in July we will also be holding a simple said service at 9 a.m. at St Cuthbert's Church.
To attend one or more of the services at St Cuthbert's you need to register in advance: registration is now open through the form on the 'Register for Services' page.
If you would like to receive regular emails from the clergy during this time, please sign up to the mailing list. The latest edition of the benefice magazine, Contact, can be downloaded from the St Cuthbert's A Church Near You webpage.
For any safeguarding enquiries about any of our churches, please see the Keeping People Safe page for details of how you can get in touch with us.
Sunday Service Livestream
The livestream will become available from just before 10.30 a.m. on Sunday morning by clicking on the image below, or by going straight to our Youtube channel. Resources for the service, such as the all-age activity pack, can be found below.
You can replay the service after the livestream has finished; videos and resources from previous weeks can be found on the Previous Livestreams page.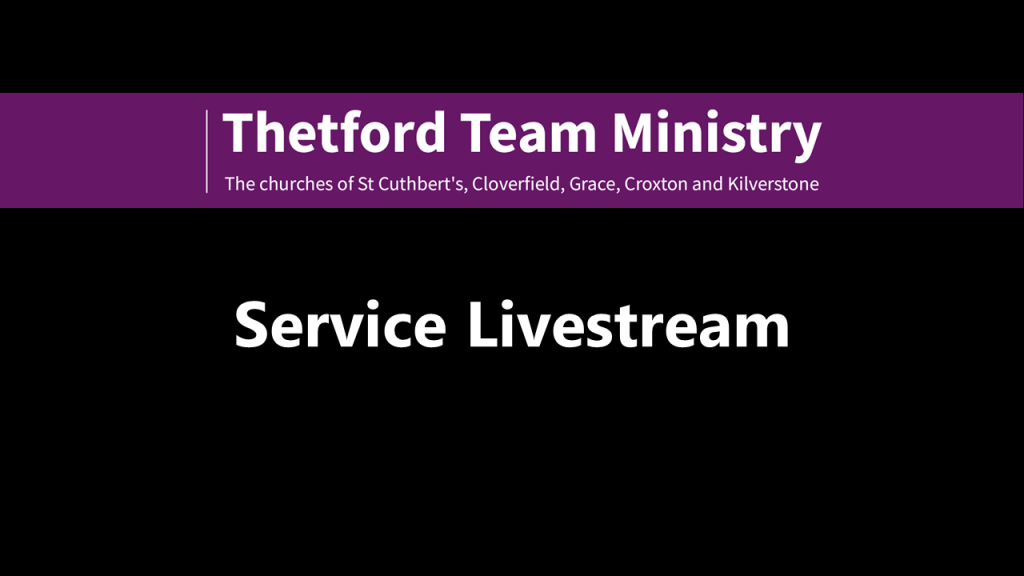 (If you are having problems viewing this on a mobile device or tablet, please try refreshing your browser.  You may also need to tap on the 'unmute' button which appears on the screen.)
Reading: Acts 4:32-5:11
Post-Service Coffee by Zoom
At the end of the Livestream Service, we have 'post-service coffee' by Zoom, some popular software for video meetings.
Why not grab your tea/coffee/biscuits (or other preferred refreshments!) at the end of the service and then join us for an online catch-up with one another? You can join the Zoom video meeting for free, without needing to register for an account.
The link to click to join the Zoom meeting will be posted here shortly before the service starts and will remain until the online coffee time has finished.
Once you've joined, don't forget to use the on-screen options to turn both your video and audio on.
You can participate from your web browser without downloading any additional software (choose the 'Join from your browser' option once you've clicked the link).
Alternatively, for greater functionality, install the Zoom app on your computer or mobile device by click on the 'download & run Zoom' option once you've followed the 'Join the Zoom meeting' link.