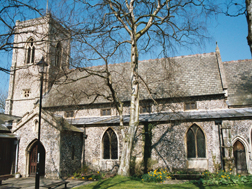 St Cuthbert's Church lies at the heart of Thetford, at the junction of Well Street and King Street next to the market place.
Sunday services take place every week at 10.30 a.m., and a service of Holy Communion also takes place every Wednesday at 10.30 a.m.
The What's On pages have details of events happening at St Cuthbert's and across the Team.
St Cuthbert's has recently completed the first phase of a redevelopment plan, which involved installing a fully equipped catering kitchen, redesigning the toilets and improving access for people with disabilities. With the new flexible interior and fully equipped kitchen the church will also set up a new social enterprise café.
In order to enable this project we received a Euro Funding grant towards the redevelopment work to update our church kitchen and meeting room with internal wheelchair access to new toilets.