As part of a project to engage with more people through sport we have partnered with The Sports Factory to launch Sports Ministry in Thetford.
The Sports Factory are passionate about sharing sport with people. We want to see lives changed as a result of engagement with sport, faith and the church. We run holiday clubs, community events, schools work, sports coaching academies, social sport, detached sports outreach, activities with the football cage and work with disengaged young people.
To sign up to Legacy Holiday Club (25th-29th July) go to: https://www.everymove.uk/providers/the-sports-factory-thetford-team-ministry/activities/legacy-holiday-club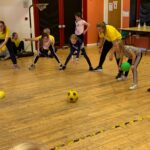 If you want to find out more about who The Sports Factory are, and what they do
Click here – www.sportsfactory.org.uk!
What's On…
For more details of future events and how to get involved please email susie.bratby@sportsfactory.org.uk