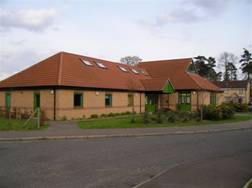 Cloverfield Church opened in December 2000, a joint project set up by the Church of England and the United Reformed Church. The building serves as both a church and a community hall available to other organisations. There are plenty of churches in Thetford, but no other one on this estate, which is on the East side of the town.  
The worship here follows an informal liturgy, and leadership of it is shared with members of the congregation. The main Sunday service is at 10:30am. Please see the Services page for details of services taking place online and in the church building during the current COVID-19 pandemic.
The Team Vicar post is currently vacant. Please join us in praying for the right appointment.
Cloverfield Church has its own web site at http://www.cloverfieldchurch.org/