All Saints' Church, Croxton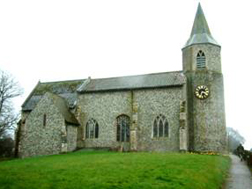 There has been a church in Croxton for over 1000 years.  This beautifully kept church is one of Norfolk's round tower churches. 
There are two services here each month: a Family Service on the second Sunday of each month and Holy Communion on the fourth Sunday.  These services usually start at 9.15am but special services sometimes start at 10.00am.  The Calendar page will tell you when this is happening.
Children are always welcome at our services.
At special times of the year our celebration services are always very popular with the local community and many people from the village help to keep the church and churchyard in good order.